Height installation, disassembling and constructions service with rope access.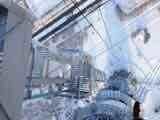 When installing any steel structures at height it is not always possible to use a crane, mobile elevating work platform, scaffolds or special equipment. Besides, assembling (disassembling) of scaffolds increases the works price. In this case, use method of rope access is cost-efficient and will save time.
Even when the work can be done from a ladder or scaffolds it is better to invite professional industrial climbers - installers who make such works correctly following the safety code.
Sometimes some other constructions do not allow using ladders or elevating work platforms to carry out works even at a small height– it is as well a reason to invite industrial climbers. Industrial climbers' skills are of great value when performing some height installations inside workshops, gyms, pools, cinemas, shopping centers etc. In such buildings usually there are lots of irremovable chairs, constructions or storage shelves.
In such cases climbers are able to get almost any point on the ceiling and get down to the working place. They also can go back on farms if necessary (for example if they work above a pool or an aquarium).
Height installation works often require not only a crane, mobile elevating work platform or industrial climbers work itself, but also their cooperative work. Our team has a great experience in working on an elevating platform, tower crane, in man baskets. Our climbers have certificates of cradle lift workers and sling operators.
Organization of Height Works.
When planning an installation of a height erection such important things should be taken into account: the weather conditions (temperature, wind, rain, snow) – for the successful installation it would be better to plan the works according to the weather forecast and be ready to stop the works before they will be completed. It happens also that the machinery fails (especially of Russian manufacture). In such cases industrial climber skills will be of great help for a mobile elevating work platform worker.
The video shows an example of a team work of our industrial climbers with a riggers team and crane operators serving the Ostankino TV tower: here they disassemble an old device which has served for about 40 years, let it down with the help of the crane to replace it with a new one.
We work in Moscow, in Moscow region and the nearby regions. Long trips and trips around the country are also possible in case of some interesting offers.
Looking forward to hearing from you.
Ready to answer all your questions.
&nbsp